Top 10 Steam Alternatives to Buy Cheap PC Games
What is Steam ?
Let's face it, Steam is undoubtedly the biggest digital games distribution platform in the world. But that doesn't mean they offer the best prices. In fact, unless they're having some sort of sale, you'll most likely need to purchase games from the site at full price.
Where to find games cheaper than Steam ?
Here at AllKeyShop.com, we know that the reason you keep coming back is because we have the best deals on games anywhere on the web. If you've been wondering just how we're able to provide you with all the titles you want at bargain prices, well, our secret is our partner stores. We've teamed up with all the best platforms, providers and marketplaces and meshed them all up into our price comparison service so that you know you're getting the best deal each and every time.
Here's a look at the best partner stores we consider to be the top 10 Steam alternatives to buy cheap PC games from:
What are the 10 best Steam alternatives to find games at the best price
GOG stands for "Good Old Games". As the name suggests, the platform started out as a way to get digital copies of older games that were almost impossible to find elsewhere. Nowadays though, you'll find that a lot of current AAA and indie titles release on GOG as well as Steam. The hook is that all games you purchase from the site are DRM-free. They also offer a downloadable client similar to Steam's if you want to make keeping your games updated hassle-free.
---
Most big publishers are trying to maximize their profits by offering their own distribution platform for their games. For Electronic Arts (EA), that would be Origin. Quite a few non-EA games have also been added to their catalog more recently. Origin is also known for its subscription service that allows you to play full games and sample new releases ahead of launch.
---
What Origin is for EA, Uplay is to Ubisoft. But, not only does Uplay contain all their PC offerings, it also sells physical goodies such as officially licensed apparel and collectibles. They also offer reward system called the Ubisoft Club, which allows you to earn an exclusive currency that can be used to get either a 20% discount on your next purchase or free exclusive DLC for your games.
---
This platform has been around for quite some time, even before Steam. It started out as the multiplayer component for Blizzard games but has now evolved into the publisher's very own distribution platform and game launcher. It helps keep all your games from Blizzard in one neatly organized interface and also helps keep getting their free offerings easy to find as well.
---
Now, while most of the earlier entries have been actual alternative platforms from different publishers, Green Man Gaming is more of a game key seller that offers titles from over 660 publishers in its catalog. These range from titles on Steam, GOG, Origin, Uplay, Battle.net, and others. You can also create a free account to become a VIP and earn EXP you can use for discounts.
---
Just like Green Man Gaming, Gamers Gate specializes in selling game keys. Their catalog boasts over 6,000 games and also have a robust collection of 1,500 titles for gamers on a Mac. Just like GOG, they also offer DRM-free games and does not require a client in order to download games purchased from them. Their Rewards Program lets you earn Blue Coins by performing specific actions such as writing reviews. These can then be used to purchase anything from the site.
---
G2A not only sells game keys, they also offer a platform for users to sell their own game keys, making it one of the biggest marketplaces for digital goods. To ensure that service quality is maintained, G2A offers a premium guarantee service that can be availed as an add-on with every purchase or as a subscription for power users. You also get cashback with every purchase in the form of G2A Coins which you can use to purchase titles on the site.
---
Kinguin is very similar to G2A in that it also has a marketplace for users to sell their own game keys. They also offer a premium guarantee service called Kinguin Buyer Protection. Aside from games, there are also in-game items such as weapon and character skins for various titles on sale. You can also find packages that feature a random number of Steam games.
---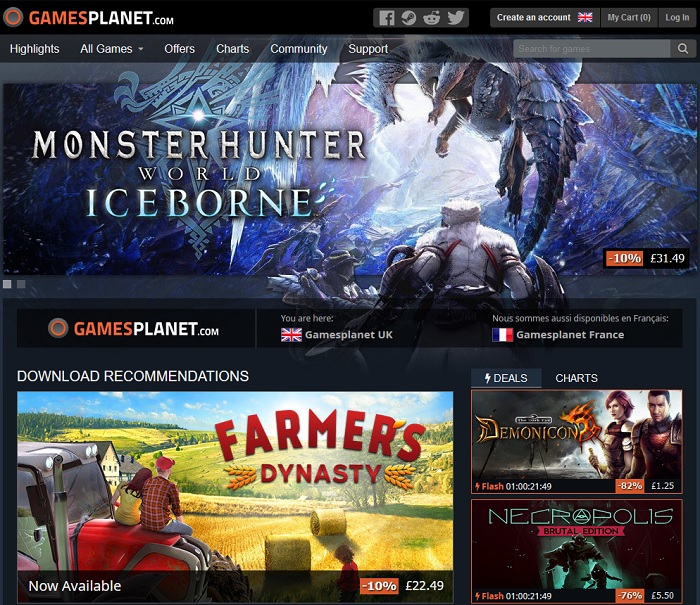 Gamesplanet is an official digital game store. They are authorized by editors and have direct contact with them. Available in France, UK, US and Germany. Their catalog has games for Mac, PC Windows and Linux.
---
HRK sets itself apart from the competition in 2 ways. First, it offers a free random game when you purchase specific titles. Second, it allows you to create region-free Steam game bundles that you can purchase for dirt-cheap prices. They also have a system for trading games with other users. Purchases also let you earn gems, which you can then convert to your account wallet to purchase anything within the site.
---
And that's it! We've got dozens of partner stores but only listed 10 of the best for you. Just remember, all of these sites are already integrated into our price comparison service, so if you're looking for the best deal on a specific game, your best bet is to look at the game's page on our site. Cheers!
---