How to buy a Thief CD Key
You want to buy a Thief CD Key but you don't know how ? It's very easy and Allkeyshop is here to make it simple for you. You will also save a lot of money with always the lowest price of the game thanks to our comparison tool. Buying a CD Key is like going out in a retail store and grabing the game in the shelve but with a huge difference… You don't leave home and you save money! First, go on the Thief game page and choose the store that meets your requirements. Delivery time, Payment method, price, country and type of store…
Click on
Shop Now
. You will be redirected to the selected store and you can safely
buy a Thief CD Key
. Most stores will request that you register to make an order. You can usually register with your Facebook or Gmail account to proceed faster. Once registered, you will receive an email to verify your account. Click on the verification link in the email to activate your account. From there you can add the game in your basket and proceed to the buy out like on any web store. Don't forget to use the voucher code if there's one. They are shown next to the price in list of prices of the game. Validate and pay using your favorite payment method, usually Credit Card or Paypal. It's done! Please note that some stores will request some verifications for your first order to prove your identity. A picture of your Identity Card for example, or a sms code. You can hide the numbers of your Identity Card for more security if you want. Each stores has it's own delivery time. Some stores deliver instantly like
Kinguin, G2A
… Others can take up to 8 hours. Please check in the price list the usual delivery time of the selected store. Don't panic if you don't receive your CD Key instantly. Check your spam folder as sometimes the
CD Key
can be there. Wait until the usual delivery time is over and if you haven't received anything, then contact the store support. You will not usually have any issues as most stores do their best to send your game as soon as possible to make you happy about ordering on their site. When you have your email with the CD Key, you can now proceed to the activation on the digital platform of the game, usually Steam, Uplay, Origin or Battle.net. You can read our activation guides for the biggest digital platform of the market on the following links.
Activate a CD Key on Steam
How to activate a Russian CD Key on Steam
Some games are available for a much lower price as a Russian Edition. You can activate and play on a
Russian Thief Steam CD Key Edition
. But you will need to do the following:
Use a VPN to activate
the Russian Edition of Thief on Steam.
Download the game
with the VPN. Once the download is over, launch the game once. Quit the game, change the language, then launch it again. Then you can close the game and close the VPN. You will then need to do a trick to launch the game directly from your harddrive to be able to play without a VPN. All stores selling a Russian
CD Key
will provide a complete tutorial with the steps to do. We have selected 3 stores with Russian Edition Thief Steam CD Key at a really low price.
Mygamekeys.net
current price: 14.49€ Language:
Multi
Mygamekeys has a steps by steps tutorial to activate, download and play at the following link:
Play Russian Edition of Thief on any languages and anywhere in the world
. We haven't tested this method yet but the store is safe and they will do their best to assist you.
Gamekeys4u
current price: 14.49€
Language: Multi
Gamekeys4u also has a nice guide similar to the one of Mygamekeys at the following link:
Play Thief without a VPN
Buygamecode
current price: 14.98€ Language:
English
This store doesn't seem to have a guide, maybe they send it after you buy the game. They advise customers to know what they are doing when buying a Russian Edition : Game can be region locked, languages can be changed, they are not responsible of the use of the game, they do not refund. Be aware that buying this product is at the customer's own risk.
How to find the best price for Thief
We recently added new features on our sites, you can now filter stores by language, payment method, customer support and type of store.
Payment method:
(credit card, PayPal, Skrill..).
Store Language:
if you want a specific language, you can select it there.
You can also now choose if you want an Official Store or a CD Key store :
The differences between a
CD Key
Store and an Official Store is that the CD Key store doesn't have an official link with the publisher of the game. Small business usually won't have this. It can be an advantage and a disavantage. Official stores are instant delivery. CD Key stores have the lowest prices.

Price Alert :
if you want to wait for the price of Thief to go down, you can
put an alert and receive an email
when the game hits the targeted price of your choice. You can also follow the
price trends
in the last days easily.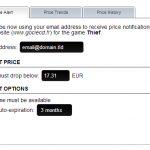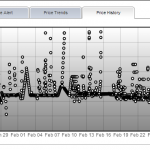 The FAQs:
If you have some questions, click on this link to read answers to the
Frequently Asked Questions
. We hope this blog post will be useful to you and that it will help you to buy a
CD Key
for the game Thief. 🙂 Happy Gaming !