About Agario
You control a cell whose purpose is to grow and grow as much as possible by absorbing other smaller cells. The whole while avoiding the other bigger cells.
Getting more points and winning the game of your choice is now more fun! The hit web and mobile video game Agario is now on Allkeyshop!
How does it work?
In Agario, you play as a Cell. Your objective is to get bigger by "eating" smaller cells. But be on the lookout as those cells bigger than you are also on your tail, waiting to eat you up!
How do I earn points?
You earn XP each time you eat a cell. The XP you earn is automatically converted to Allkeyshop Points. 1000 XP = 1000 Allkeyshop Points. After playing the game, you only need to refresh the page to see the points you earned.
How do I get more points?
Allkeyshop has 3 salons corresponding to the languages ​​most used by our users. In these three servers you will be able to play while using the bonuses that you will gain with the roulette visible on the left side of the interface or you can buy bonuses with the Rubies that you win with each level.
#1 – EN
#2 – FR
#3 – DE
#4 – Bonus (

Tournament Server)
Every day between 18:00 and 19:00 CEST/UTC+2, we will be holding tournaments ( #4 – Bonus). The top player at the end of the tournament will be awarded with 35,000 points, while 5 random lucky players will be given 10,000 points each!
The best ranked in the top scores will win 35,000 points and 5 players will be randomly drawn and will each win 10,000 points.
Game Controls
Move your mouse to move the cell
Press space to divide your cell/escape/eat
Press W to give mass to someone or to explode viruses (green cells)
Press V to enable speed bonus !
Press R to recompose the cells immediately.
Press I to enable immunity bonus
Several other rooms available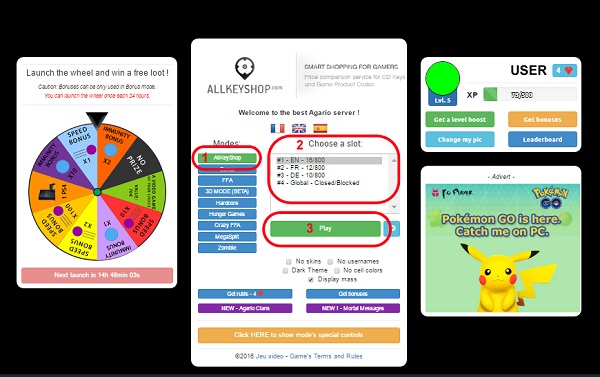 Presentation of other fairs
The Bonus Room

:  Same principle as our living room but everyone is mixed

The Classic Room

:  free play is free

The 3D Fashion Show (Beta)

:  Developed by our friends of Jeu.video this level is in 3D but the rules remain the same.

Hardcore

:  For the hardcore gamer! Eating or eating are the only two options

The tournament lounge

:  Stay alive until the end of the game

The demolition fair

: Staying alive too

MegaSplit

:  In this mode it is possible to divide and recompose instantly

Zombie

:  In this room, a player is designated as a zombie and must contaminate all other cells.
---
So there you have it! Play the game now to get more points! Good luck!